You've probably heard about WhatsApp and how it helps you connect with people around the world through messages, calls, and video calls. All you need for it to work is a smartphone and connection to the internet. If you are a user, you already know how easy it is to make calls or send messages anywhere in the world. However, when there are so many options, why would you want to use WhatsApp instead of any other messaging app?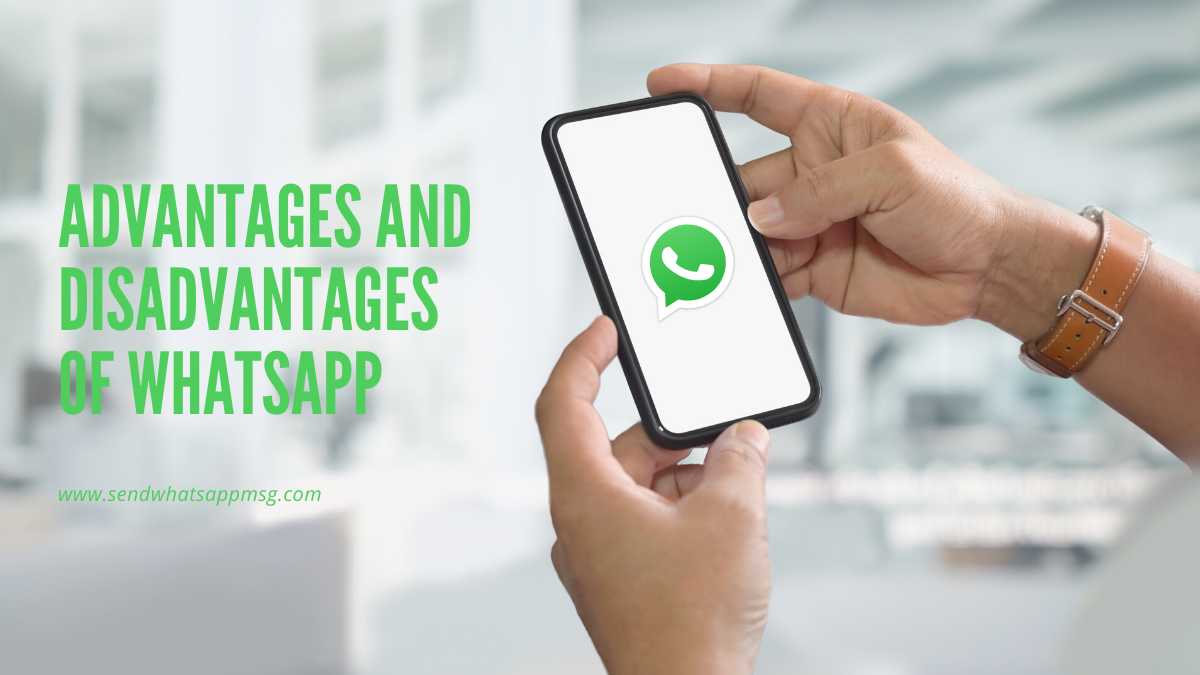 We'll shine some light on this subject and list a few advantages and disadvantages of WhatsApp.
So here are the advantages:
1. It is FREE to Use
Who doesn't love a good free app? WhatsApp is one of them! Not only it is one of the most used messaging apps in the world, but it is free to use, as well. You can send unlimited messages and different media without spending a dime. The app is compatible with almost all smartphones and allows you to share information easily.

2. Share real-time Location
WhatsApp supports live location feature, which means you can select a person or a group of people you can share your real-time location. This is fully under your control, you chose when, with whom, and for how long you want to share your whereabouts.
3. End-to-End Encryption

All the conversations on WhatsApp has end-to-end encryption, which means it is 100% safe and your messages can't be intercepted by a third party. Even WhatsApp cannot look at your chats.
4. E-mail your Chats
Sometimes you may have important business conversations that result in task delegation. Other times, you may need to print or backup a text exchange for future reference. WhatsApp lets you send your chats to an email in a matter of seconds.
5. Broadcast messages
Save time by sending bulk messages to multiple contacts simultaneously. WhatsApp supports broadcast lists, which differ from the groups where participants can interact with one another. You can edit the list anytime and use it to send mass text messages, pictures, or videos to as many individuals as you want.
6. Imports Contacts Automatically
You don't need to insert any phone numbers manually, WhatsApp knows who uses the app and who doesn't. They will automatically show up on your contact list and you can start chatting right away.
And just to be fair, let's list a few disadvantages:

1. Contact Number Required
Unlike Facebook Messenger or even Skype where you can add someone via their handler. With WhatsApp, you need to reveal your real phone number to contact someone on WhatsApp.
2.
File Size Limit
You can send any type of content with WhatsApp, but the only downfall is there are limits in file sizes. You can only send videos that are less than 16 MB and documents smaller than 100 MB.
3. No Way to Log-Out
Some messaging apps offer the option to Log-Out if you want to switch accounts or simply take a break from the app. There is no such option on WhatsApp, which can be bad for your privacy or user experience.
4. Migration Between iOS/Android
If you decided to switch from iOS to Android or vice versa, you probably want to transfer all your apps and information to the new phone hassle-free. This is not an option that WhatsApp offers by default. All of your chat history will not be imported over to the new phone.
5. No Multiple Logins
You can only login to one mobile device at any point of time; though you may also concurrently login on one other Web or Desktop app.
6. Unable to Start a Conversation Without Adding Contact
There is no way to start a conversation with someone by simply keying their contact number. You have to first add the number into your phone book before you are able to message the person on Whatsapp. Luckily, there are third party tools like SendWhatsappMsg to do that.
Clearly, this app has made life a little easier for many people. It's one of the most user-friendly apps in the niche, which means it is hard to pass on downloading it.
Today, more people ditched their expensive international plans and opted to use WhatsApp to talk to their friends and family abroad.